At the end of 2014, Joanne Currey received life-changing news.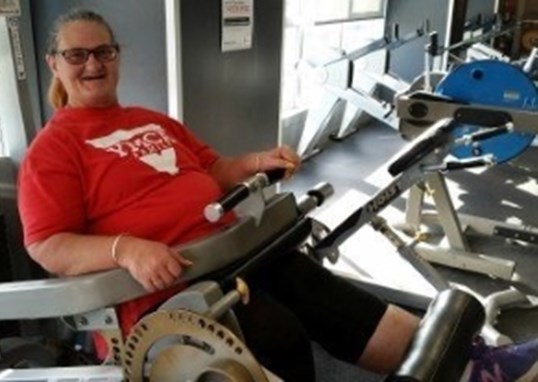 She had been diagnosed with diabetes, and told she was a "walking time bomb".
Meet Joanne
At the end of 2014, Joanne Currey received life-changing news. She had been diagnosed with diabetes, and told she was a "walking time bomb." If Joanne wanted to live, she would need to make urgent changes to her lifestyle. She was referred to the Jumpstart programme, and since then, she has been able to do things she could never do before – including running around with her grandkids.
Diabetes diagnosis
Joanne said when she was diagnosed, she felt hurt and angry.
"I was a bit pissed off, but I had a feeling one of us kids would get it. My brother has type 2 diabetes as well. I used to get quite thirsty, and when that started, I had a funny feeling that's what was going on.
"My blood sugar levels were quite high when I got diagnosed – I was told I was a walking time bomb."
She began eating well, exercising, and taking part in the Jumpstart programme at YMCA North Shore Recreation Centre.
From feeling fine to fabulous
The 56 year old said she felt fine before her diagnosis, but it wasn't until she started the Jumpstart programme in July 2015 that she started to feel great.
"Mentally and physically I felt fine. Once I started exercising, I felt a lot better. When I got diagnosed I started cutting out all my sugars and carbs and that helped a lot.
"I enjoyed Jumpstart, it was interactive and it helped with a lot of things. They taught us how to read the labels on the back of our food, and it just helped me change my way of living. Now I feel absolutely great. I've found out my sugar levels are now down to 38, so I'm really happy with that. If my sugar levels had have kept creeping up, I wouldn't be here today."
Joanne said it took her grandkids for her to lead a healthier life, because she wanted to see them grow up.
"I've got two grandkids, so I've done it for myself, and I've done it for them. I don't take any medications now. It's not easy with my diet; I do slip up every now and then, but I do exercise a lot. When I see my grandkids, I'm a lot happier that I can run around with them – and my son's happy too."
Since completing the Jumpstart programme, Joanne has more confidence when it comes to tackling tasks, and loves being more active, at her own pace.
"I enjoyed meeting different people with different levels of fitness, and meeting the personal trainers."
Bright future for Joanne
Thanks to Jumpstart and Joanne's commitment, she can now look forward to a healthier future where she can not only watch her grandkids play – but join in with them too.
She said if anyone was offered the chance to join Jumpstart, they should grab it with both hands.
"Go in, don't be scared and try it. I used to hate exercise, but since Jumpstart, I love it. It gets me out of the house, I'm not sitting watching tv all the time. I love getting out into the fresh air, looking at the houses and the gardens and stuff like that.
"If anyone wants to go do it, don't be shy – just do it!"